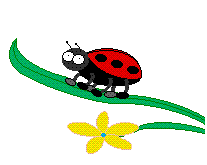 The Little Ladybug by Amelia May is a Four Star. It's a cute story written for children 3 to 6. It is a suitable learn to read book for those ages. The rhymes are easy to read & it would be a fun read aloud for a parent, grandparent, teacher or librarian. It show the ladybug in different situations looking for a friend.
"And what did I do wrong this time?
There's nothing wrong with me!
All I wanted was a friend,
or maybe two or three."
The ladybug visits other insects who don't want to be friends. At last, feeling a little sorry for himself & sighing so loud he barely hears an ant that needs directions. He helps.
As an afterthought:
"The ant said, 'See you, ladybug!
Also, if you don't mind,
Would you like to be my friend,
Since you're so caring, fun &
kind?'"
The illustrations used in this review are from photobucket, not the book. The illustrations in the book are simple & pleasing to the eye.
To purchase link: http://www.amazon.com/gp/product/B00MLRTM2W?ie=UTF8&creativeASIN=B00MLRTM2W&linkCode=xm2&tag=injoslifethin-20