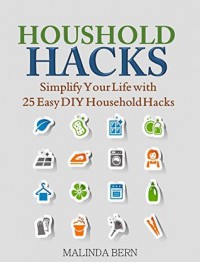 I received a free kindle copy of Household Hacks: Simplify Your Life with 25 Easy DIY Household Hacks by Malinda Bern from Amazon. I gave it FIVE stars.
While many of these ideas are common sense things to do, some of them really help offer great suggestions on how to use an ordinary item in a new & different way.
Even though I received a kindle copy, I'll be taking a pack of sticky notes to write my favorite ideas & post them in the room where they are needed.
One helpful example is to use clothes pins to hold items securely together when you're gluing them. As a card crafter, I'll use this idea for sure. I'll just have to make sure the area I'm gluing would not leave a 'dent' from a clothes pin.
I hope you'll find some useful life 'hacks' here too.